Are You Out of Control with an Addictive Behavior?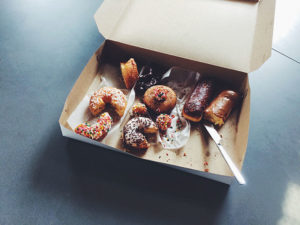 A couple years ago, Bert's class reunion was coming up and I found a great dress! It fit perfectly – if I didn't mind giving up breathing for the evening.
Needless to say, I had to search for a different dress – a larger-sized dress.
Thankfully, due to my fasting from sweets for Lent this year, I lost four pounds. I was shocked that I actually went the whole six weeks without any desserts or candy, etc. Normally I have very little willpower, especially regarding sweets.
Although it wasn't my main objective to lose weight during the Lenten season, I was pleased with this side benefit. But, to be honest, I feared once Lent was over I would be totally out of control with sugar.
Therefore, I came up with a plan: to pray for people on my prayer list each time I have an urge to eat something sweet, rather than give in to the temptation. (This also works well when dealing with other behaviors – such as watching too much television, or spending too much time on social media, etc.)
Let me explain how this could work for all of us.
Each day, we choose a few items from our regular prayer list, including: our country, other nations, our spouse, children, family members – even our "enemies" (those we have a difficult time with) – and then pray for them, rather than giving in to whatever our temptation might be. For me, it works even better when I incorporate the verse I'm meditating on that day.
Let's use Proverbs 2:1 as an example:
"My son, if you accept my words and store up my commands within you …" (NIV 1984).
Your prayer could sound something like, "Father, give (names) the desire to accept Your words and store up Your commands within them." Then pray the next verse the following day.
This plan has helped me consistently resist temptation, spend more time hiding God's Word in my heart, and spend extra time interceding for my country and others who need my prayers.
What about you?
You can use a pseudonym (fake name) when commenting.
Will this work for you regarding whatever addiction or bad habit you're struggling with?
What are some Bible verses you use when praying for yourself or others?
Please let me know how I can pray for you. If you prefer, you can email me.