How far will we let temptation take us?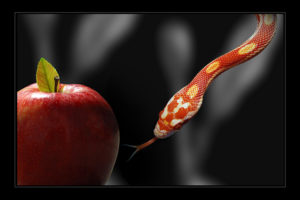 "What are you doing?" Carl wrinkled his brow after catching a glimpse of Steve's computer.
Steve snapped down his laptop lid. "Carl, I thought I was the only one working late today. I … I was just finishing up."
Carl cleared his throat. "Wow. Uhhh, besides the fact that you know the company's policy on viewing inappropriate websites at work, I know you, man. This isn't you. Why would you risk your job – not to mention your marriage – by looking at that stuff?"
Fighting hard to avoid making eye contact with his co-worker, Steve stuffed the papers on his desk into his briefcase. "It's … it's not what you think … I rarely … I mean, it's not like I spend a lot of time looking at …" Steve could feel his face, neck, and ears getting hot.
Carl rolled his sleeves up and crossed his arms over his chest. "You've got some decisions to make. You need to decide which you want more: your family, career" his voice grew a little louder, "your self-respect, or that stuff which, even if it's true that you don't spend a lot of time looking at it – if you don't give it up right now, in time, it will consume you, until it destroys everything you've worked for and the people who love you."
Steve raised his hand: "Stop! You're not my boss – and you're certainly not my god. I don't need your approval or permission to do anything, Carl. So get out of my business."
Carl stared at his long-time friend, mouth opened in disbelief. "Let's get out of here and grab a bite to eat. We can call our wives to let them know we'll be late," he finally said, sounding drained.
Steve slumped into his chair. "It's no use for me to call Leigh." His eyes watered. "She took the kids and left … two weeks ago."
Carl sat down in the chair across from Steve's desk, speechless.
____
This is a fictitious story to illustrate this week's verse: "But each person is tempted when he is lured and enticed by his own desire. Then desire when it has conceived gives birth to sin, and sin when it is fully grown brings forth death" (James 1:14-15 ESV).
(We will continue with this topic next week.)
What about you?
You can use a pseudonym (fake name) when commenting.
Does James 1:14-15 scare you as much as it does me?
See sidebar to subscribe to this blog and receive the most recent post to your inbox. There is no charge for this service.