Does God Feel Far, Far Away?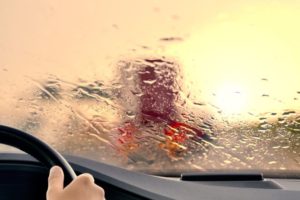 The rain pounded my windshield. Suddenly, my car hydroplaned and skidded off the road into the swelling pond. I was terrified as my car filled up with water.
I couldn't get the windows down so I pounded on the glass, but to no avail. The water quickly covered my mouth, then my nose. I desperately needed air. Just a few minutes ago, I took air for granted; now it was all I could think about. Indeed, it was vital that I get some air – quickly.
It was only a bad dream, but its impact still haunts me. After waking up from that nightmare, I spent several minutes taking deep breaths, vowing to never take air for granted again.
As much as I hope to never have that dream again, God used it to give me a strong appreciation for this week's powerful verse:
"Then you will seek Me, inquire for, and require Me [as a vital necessity] and find Me when you search for Me with all your heart" (Jeremiah 29:13 AMPC).
What would happen if we did just that? What would happen if we were to seek God, to inquire His counsel and direction, and to realize our total dependence on Him – as if we couldn't survive without His presence?
Indeed, whether we're feeling as if God is a million miles away from us or if we're already experiencing an assurance of God's presence, wouldn't pursuing God with this kind of humility and reliance upon Him deepen our relationship with our Heavenly Father?
Rather than taking God for granted or only seeking Him during our desperate moments, what if we (especially as we prepare to enter into the Lenten season) seek our Heavenly Father and allow Him to reveal Himself in ways we've never imagined? Thus, allowing our hearts the assurance that God is very near, indeed.
So, let's see what happens (in our hearts and lives) when we seek God as if we couldn't survive without His presence. And let's begin doing just that today.
What about you?
You can use a pseudonym (fake name) when commenting.
Do you sometimes wish God didn't seem so far away?
Do you (without realizing it) sometimes take God's presence for granted? Or do you tend to try to live your life independently of God?
What are your favorite ways to spend time with God?
See sidebar to subscribe to this blog (via email) and receive the most recent post to your inbox. There is no charge for this service.
Photo © Trendobjects | dreamstime.com