In Need of an Internal Makeover?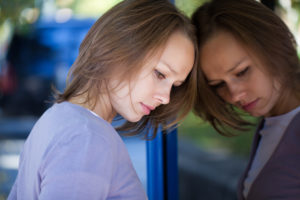 I've shared in previous columns the devastation I experienced when my first marriage ended due to my (then) long struggle with eating disorders and other emotional issues.
It wasn't until twenty-three years later, when I met and married Bert, that God gave me a second chance to love and to be loved again as a wife.
Twenty-three years was a long time to wait. However, because I was filled with so much insecurity and confusion, I needed every one of those years for God to give me an internal makeover.
This brings me to one of my favorite Bible passages, Ephesians 3:16-21, starting with this week's verse:
"May He grant you out of the rich treasury of His glory to be strengthened and reinforced with mighty power in the inner man by the [Holy] Spirit [Himself indwelling your innermost being and personality]" (Ephesians 3:16 AMPC).
I prayed for years to be stable. To be honest, I doubted it would ever happen. But as I spent time praying, meditating and reading God's Word, eventually He gave me the gift of stability by filling me with His power and presence.
Had Bert and I married before God's presence and power changed me, I would likely be divorced again.
Are you filled with insecurities, fears, doubt or unforgiveness and bitterness, or are you overly stressed? Imagine how different it would be if you weren't.
What if you (and I) were to invite God to indwell our innermost being (everything we are: all of our emotions – including our insecurities – our deepest thoughts and all of our beliefs)? And what if we were to give to Him our entire personality (everything relating to the way we behave, including our sense of humor)?
Wouldn't the sense of God's presence within the deepest part of us be wonderful? Worth seeking?
What about you?
You can use a pseudonym (fake name) when commenting.
In what way are you in need of an internal makeover?
Would you consider going to God completely admitting your weaknesses and meditate on Ephesians 3:16-21, one verse per week?
Then we can begin to experience God filling us (out of the rich treasury of His glory) with His strength and presence!
Photo © Yanlev | Dreamstime.com