Returning to that Good Place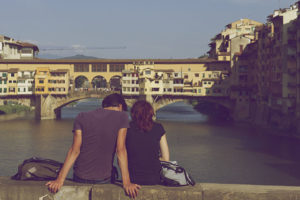 Bert and I sometimes record special messages to each other, which air on Wave 94, such as our latest one for our tenth wedding anniversary, this past May 6.
I love scripting and producing these types of ads with Bert. But I wonder if we're giving listeners the impression that we have a perfect marriage. I assure you, we don't. Nevertheless, we enjoy that "good place" more often than we did a few years ago. I will always thank God for all He has done and continues to do: in Bert, in me – in us.
Nonetheless, Bert and I often stray from that good place. In fact, occasionally we will have such horrible fights that I fear we'll never feel love for each other again. Then, at the height of our yelling at each other, one of us will miraculously suggest we pray together. Even as we begin our prayer, I remain filled with doubt that God can reunite our hearts… but He always does! Every time.
I believe that's because while we're praying God reminds us who our real enemy is. I'm not Bert's enemy and he's not mine, though it may feel that way at times. Rather, we are fighting a very mean and evil foe:
"[f]or our struggle is not against flesh and blood, but against the rulers, against the authorities, against the powers of this dark world and against the spiritual forces of evil in the heavenly realm" (Ephesians 6:12 NIV 1984).
Bert and I are strengthening our commitment to recognize more quickly when the devil tries to divide us – and how to stand firmly together against him, in Jesus' Name.
Returning to that good place is even more important to us now. Bert recently suffered a mild heart attack and underwent triple bypass surgery. Thankfully, he's doing great. In fact, by the time you read this, he should be back to work, full time. This did remind us, however, that we're not guaranteed the next moment. Bert and I refuse to waste any more time fighting each other while the real enemy laughs.
What about you?
You can use a pseudonym (fake name) when commenting.
Do you often forget who your real enemy is?
How is it affecting your relationships?
How is it affecting you?
Photo by Tord Sollie | Unsplash.com