Satan is not God's Counterpart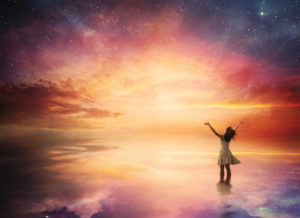 I used to picture God and the devil almost equal in size and power, though opposite in nature. But I was wrong.
Satan is not God's counterpart.
In fact, Satan doesn't compare to God, in any area. Everything about God is huge, whereas in comparison, anything regarding Satan is microscopic – not to mention that Satan is merely a created being.
Last week, we looked at the benefits of remembering that God sees us, including our fears.
But what if we didn't stop there? What if while we continue to find comfort in the fact that God always sees us, we were to also really see Him, too – especially how big and powerful He is?
What if we saw Him as the Sovereign God Who is so big and powerful that He created heaven and earth?
"Ah, Sovereign Lord, you have made the heavens and the earth by your great power and outstretched arm. Nothing is too hard for you" (Jeremiah 32:17 NIV 1984).
We were created and are loved by a very large, powerful God.
We can easily lose track of how big and powerful God is when we see the devil's widespread devastation, including in our own families and in our personal lives. But the devil is no match for God.
I'm not denying that we're living in scary times and that we will see more scary days, but it is reassuring to know that nothing can overwhelm our God.
Furthermore, when we put our trust in Christ, we have the strength to endure.
"I have strength for all things in Christ Who empowers me [I am ready for anything and equal to anything through Him Who infuses inner strength into me; I am self-sufficient in Christ's sufficiency]" (Philippians 4:13 AMPC).
Yes, Satan is real, but he is defeated. His destruction is devastating, but God's restorative power is far more powerful. And God is omnipresent. Satan (and his host of demons) are not.
Please don't let the enemy become larger than God is to you. Because God is so much bigger than we can ever imagine.
What about you?
You can use a pseudonym (fake name) when commenting. 
How will realizing how big God is and how small the devil is (in comparison) help you see your trials differently?
Admittedly, even with this perspective, trials are real. How can we pray for you?
Photo by James Steidl | Dreamstime.com