Being Thankful for Those Who Annoy Us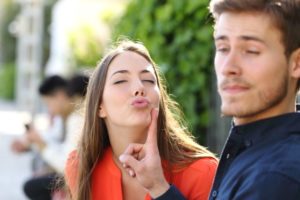 Can you come up with one positive trait for the person who constantly annoys you in one way or another?
Living or working with (or near) some individuals can be challenging. We could all come up with several people who would qualify. At the same time, we must consider that we, ourselves, just might appear on some people's list.
What if we were to ask God to help us be thankful for each person He has placed in our lives? (Understand, I'm not referring to people who are causing us harm.) What if we were to begin today, especially during this Thanksgiving season?
If we ask Him to, our sovereign God could reveal how spending time with this person (or simply knowing him or her) makes our life better. Even to the point that we can be thankful for having them in our lives.
Wouldn't you agree that sometimes we become so focused on how people disappoint us that we totally ignore their good qualities – including their intrinsic worth? God longs to help us trust Him with all our relationships, including helping us see and love people as He sees and loves them. In addition, God may want to use that person to influence the circumstances in our life in ways we can't see yet.
These are all good reasons to find ways to appreciate (and get along with) those around us. Let's start by extending mercy, realizing each person has a reason for his or her behavior, just as we do. Also, we could recognize that he or she may be praying to change, just as we are.
Matthew 5:7 encourages us to offer mercy in every relationship, particularly the difficult ones.
"Blessed are the merciful, for they shall receive mercy" (ESV).
What would happen if we were merciful to the annoying person at church, next door, at work (or school) – or at home? Whether that person ever changes or not, choosing to show mercy to others will definitely change us.
And maybe, just maybe, we will even be less annoying – and hopefully be taken off someone's list!
What about you?
You can use a pseudonym (fake name) when commenting.
What are some practical ways you can extend mercy to the person who causes you the most irritation?

Without mentioning names or any negative qualities, what is one positive quality (or more) in a person you are used to labeling as annoying?

What is one quality you would like God to help you change in yourself?
Photo © Antonio Guillem | Dreamstime.com