This Year – Beginning Today – Can Be Different. I Promise!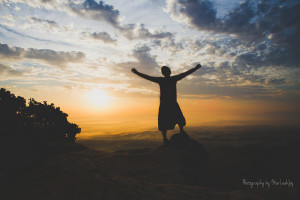 I cannot afford another year of failed New Year's resolutions. Can you?
Wanting to become better people, we make lists of the bad habits we resolve to tackle during the coming year. But after failing to stick to our resolutions, year after year, we approach the next year's resolve with fading hope – wishing true change was actually possible for us.
If yesterday was disappointing, today can be different because, with God's help, we can overcome bad and sinful behavior. However, perhaps we will have better success if we focus on one behavior goal at a time
Last week, I suggested that as we start each month, we ask God to show us one area in our lives (regarding the way we're living and the choices we're making) that is displeasing to Him. Then spend the rest of that month doing whatever it takes (through prayer, meditating on scriptures, accountability, etc.) to overcome that behavior. And then do this month after month throughout 2016.
Let me emphasize: I'm not talking about will power. But I am talking about staying on task, trusting God – with expectation – to actually see progress as we seek to become more like the person we really want to be, in Christ.
Every time I yield to God's grace and choose to obey Him, (rather than giving into my ingrained behavior), I grow in my confidence that God is changing me. That I can change.
We begin by repenting of our wrongful behavior and accepting God's mercy for yesterday. Then we begin reaching forward to see what lies ahead.
Philippians 3:13 NASB
Brethren, I do not regard myself as having laid hold of it yet; but one thing I do: forgetting what lies behind and reaching forward to what lies ahead.
If you're struggling (like many of us) with regrets, then 2016 can be different. Starting right now.
What is your January goal? I'll share mine next week.
______
"This Year – Beginning Today – Can Be Different. I Promise!" appeared first on Memorizing Scripture Blog.