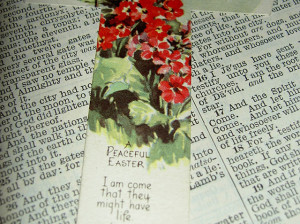 This can be your favorite Easter yet. It could even be your favorite holiday ever.
Today, you can start doing something that can change the way you feel about Easter, while also helping you reorient your life to one with a clearer focus, and noticeable peace and joy.
Before I tell you how, let me review a little of my backstory:
Years ago, anorexia nervosa totally consumed me – my only thought was how to lose another pound. It cost me everything, including my family, one job after another, my health and my sanity.
I knew I had crossed the line when my desire to be thin became more important to me than my desire to please God.
Romans 8:5-6 illustrates this well:
"Those who live according to the sinful nature have their minds set on what that nature desires; but those who live in accordance with the Spirit have their minds set on what the Spirit desires. The mind of sinful man is death, but the mind controlled by the Spirit is life and peace …" (NIV 1984).
Note the contrast. Which of the two mindsets best describes you?
What is your mind set on? Who is controlling you?
We have just entered into the season of Lent – a perfect time to set our heart, mind and soul to draw nearer to God. At the beginning of each week during this Lenten season, let's decide what we're going to do to get to know our Heavenly Father better. This can be our February goal, as we continue to set our monthly goals for 2016.
And while we're spending our time with God, let's ask Him to help us look at what is filling our thoughts (and what's driving us) – and pray for His help, where needed.
If we pursue this plan, week-by-week, our lives will reflect greater focus, peace and joy. But most of all, we will know our Father on a deeper level and will feel closer to our Savior. Then we can celebrate Easter like never before.
What about you?
How are you doing with your monthly goals for 2016? (Each month, ask God to search your heart and thoughts to show you one area in your life (the choices you're making) that is displeasing to Him. Then prayerfully seek Him and His help throughout that month to change.)
Do you plan to observe Lent this year?
If so, how do you plan to draw nearer to God during this holy season?