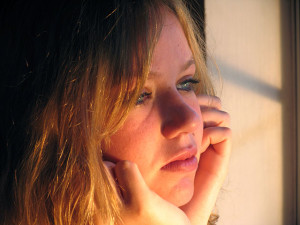 Several years ago, Lord, I faced such an emotional trial that I spent many days in tears.
I know You remember that night. In fact, I've often thought, since then, how sad You must have felt, seeing me in so much pain. Although I couldn't sense Your presence, You saw me one night when I couldn't sleep. I crept quietly into the den, so I wouldn't wake Bert. Sitting in my favorite chair, I whispered, "God, I need you!"
Grabbing a facecloth from the clean laundry basket to muffle my sobs, I got down on my knees and leaned over the chair. Burying my face into the facecloth I sobbed, "Where are You, Lord?!"
Then, something glorious began to happen. As I cried into the facecloth, the cloth became transformed. In my mind, the cloth turned into Your robe and I felt as if my head were actually lying on Your lap while You sat on Your heavenly throne – right there in my den. I had never felt Your presence more!
Even though it would be several weeks before I saw Your intervention regarding that difficult time, I will always treasure the memory of that night.
What I love most about You, Jesus, is Your kindness and compassion.
Indeed, although You are Jesus, the King of kings (Rev. 19:16), You allow me – rather You encourage me – to come to You whenever I need You.
"Let us then approach the throne of grace with confidence, so that we may receive mercy and find grace to help us in our time of need" (Hebrews 4:16 NIV 1984).
You are undeniably holy, mighty and gloriously glorious; therefore, worthy of all praise and allegiance. Yet, You continually extend Your lovingkindness to me and to those I care about. I love that about You.
This is just one of the reasons I love You, my King. And I am privileged (and humbled) to know and serve You.
What about you?
You can use a pseudonym (fake name) when commenting.
What do you love most about God?
Have you ever thought about writing a letter to Him? What would your letter to God say?