Are you ready for anything and everything life throws at you?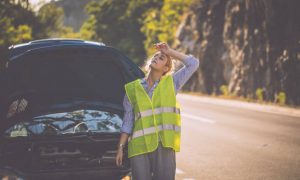 "Hi, Jennifer. I'm calling to check on you."
"I'm doing okay. Thanks for asking." Her voice was somber but strong. "To be honest, it's been tough. My car broke down – again. But the kids and I prayed, and thankfully, my tax refund arrived a few days later."
Almost a year ago, Jennifer, a single mother of three, lost her job. Even though she receives help from family, friends and her church, the stress she lives with is real. Thankfully, her faith in God's ability to meet their needs is also very real.
What about you? Maybe you're also going through a financial trial, or you're feeling pressure at work or home to do more. Maybe you're struggling with a Bible verse that tells you to forgive those who have hurt you. Perhaps you're dealing with serious health issues.
God's strength enables us to be ready for whatever life throws at us. Notice how Philippians 4:13 (AMPC) powerfully expresses God's ability to help us overcome anything and everything we'll face – today and every day:
I have strength for all things in Christ Who empowers me [I am ready for anything and equal to anything through Him Who infuses inner strength into me; I am self-sufficient in Christ's sufficiency].
Ready for anything and equal to anything. Wow! But this enabling only happens when we allow God to infuse us with His inner strength.
Wouldn't it be worth it to spend time thinking about what it means to have the strength of Almighty God saturate our entire being? And if we shared this verse with the Jennifers in our lives, imagine how it could strengthen their faith.
How would Philippians 4:13 change our spouse's or child's feelings of inadequacy at work or school? Or your pastor's wife if she's feeling unsettled in her role?
The challenges we face are real. Meditating on Philippians 4:13 won't remove them, but spending time thinking on this verse can change the way we handle them.
What about you?
You can use a pseudonym (fake name) when commenting.
Will you commit to memorize or meditate on Philippians 4:13 this week?
And watch to see how it changes your perspective on (and maybe the outcome of) those challenges?
Then … when it does, be sure to share your experience with others.
If you're reading by email, CLICK HERE to visit Today Can Be Different online and leave a comment. If you would like to subscribe to this blog and receive the most recent post to your inbox, see sidebar! There's no charge for this service. AND, I'd be tickled if you would consider sharing this post 🙂