Do you wish the Bible had significance for you, personally?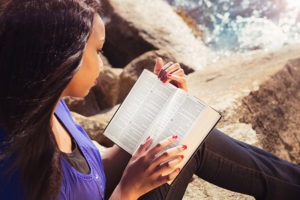 You wouldn't say it out loud to any of your church friends, but, frankly, you wonder what people get from reading the Bible.
Sometimes when you open its pages, the passages seem dry and lifeless – certainly not relevant to what you're going through right now. You envy those who glean so much hope from God's Word. What's their secret?
It could be they've learned how to personalize and pray specific Bible verses relevant to their needs. 
For example, let's say you've been worried about your teenage son. You might try personalizing 1 Peter 5:7 (ESV): "casting all your anxiety on him, because he cares for you" by reading it this way:
I will cast all my anxiety on You, Lord, because You care for me.
If you were to use the same verse and turn it into a prayer, it would sound something like this (with help from the Amplified Bible, Classic Edition):
Father, I'm so worried about Tommy's failing grades and the kids he's hanging out with. I'm scared he might be doing drugs – or worse. So I cast all my care [all my anxieties, all my worries, all my concerns, once and for all] on You because You care for Tommy and me affectionately and You care about us watchfully. Amen.
Personalizing Scripture transforms a Bible verse into a beautiful declaration between God and us. It helps us recognize more clearly who we are: Christ-followers, God's representatives, lovers of people – and individuals totally dependent on a God Who loves us.
The more we pray this way, the stronger our faith grows. The stronger our trust grows. The stronger our hope becomes. Praying Scripture can transition dry words on a page to words that overflow with hope and meaning. It can help us build a deeper, more fulfilling relationship with the Author.
Before you go to bed tonight, write down one of your favorite Bible verses. As you meditate on it this week, personalize it until it becomes a prayer from your heart. Watch God's Word become alive in your spirit and experience a renewed awareness of your Heavenly Father's amazing and incredible love for you – personally.
(Personal Note: Bert's and my prayers are with all those affected by the recent shooting in Tallahassee, especially for those who were injured and the families of those killed. A friend and colleague of Bert, Dr. Nancy Van Vessem, was one of the victims.)
What about you?
You can use a pseudonym (fake name) when commenting.
Have you tried personalizing and praying Bible verses relevant to your needs?

Please Note: Personalizing scripture can be especially comforting when experiencing times of tragedy such as the recent shooting in Tallahassee.
In the near future, we'll talk about personalizing Bible verses to praise and thank our awesome God.
_____