In lieu of Pinocchio's nose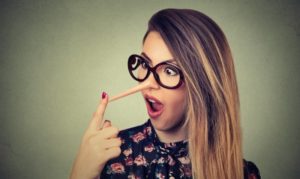 What's the best thing that can happen when we disobey God's Word?
What's the worst thing that can happen if we obey God's Word?
Our lives reflect every choice we've made. A year from now, what will our choices reflect? How about ten years from now? Are we allowing sin to steal our relationships? Damage our reputations? Compromise our testimonies?
I've no doubt that if our noses grew like Pinocchio's every time we lied, we'd be motivated to instantly change our behavior. Or if we sprouted nasty warts every time we cheated on a test, stole from a colleague or betrayed a friend, wouldn't we do whatever it took to prevent more warts from appearing?
But that's not the way it works. Our physical features don't usually change due to sin, but our soul certainly does. Sin causes our soul (our core, the essence of who we are) to become calloused to the voice of the Holy Spirit. To prevent this from happening, we must take deliberate action. Stockpiling God's Word in our minds and hearts helps us remain tender to God's mind and heart. Then our desires will be His, and with them, our actions.
Psalm 119:11 (ESV) says,
"I have stored up your word in my heart, that I might not sin against you.
The more we're in God's Word – the more we read, meditate on and memorize the Bible – the less we'll be deceived by temptation. If you've done this in the past, but it's been a while, why not consider doing it again?
How healthy would our relationships be, how would our reputations look, what kind of testimony would we have if we allowed dust to grow on our Bibles?
We're now in the last quarter of 2018. Only months ago we resolved to live differently. Thankfully, it's not too late to end this year ahead of where we were last year.
But if we don't spend time in God's Word, we deprive the Holy Spirit of a powerful weapon in the fight against sin and temptation. And the consequences will be far worse than a Pinocchio nose and nasty warts. If you don't believe me, ask your future self.
What about you?
You can use a pseudonym (fake name) when commenting.
What would your future self tell you about the choices you're making today?

How differently would your future self's prediction be if you were to begin today meditating and obeying God's Word?
(Side note: Bert and I are doing well following Hurricane Michael. We continue to pray for all affected by the recent storm.)
——-