Let's never forget why Jesus died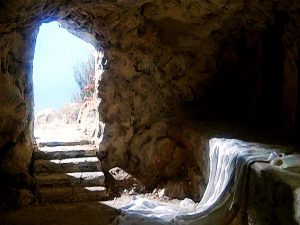 The night before Jesus was crucified, He knew every detail of what was coming: the unwarranted arrest, obnoxious mocking, flesh-ripping scourging – and the appallingly-inhumane crucifixion. Even more horrifying, Jesus knew He was taking on the sins of the whole world. Your sins. My sins.
This knowledge explains why Jesus was "struck with terror" (Mark 14:33, AMPC) that night. And why "He fell on the ground and kept praying that if it were possible the [fatal] hour might pass from Him" (verse 35).
Mercifully, the Son of God ended His prayer by saying, "yet not what I will, but what You [will]" (verse 36).
If Jesus hadn't ended His prayer this way, I probably would've died from an eating disorder or by suicide. At the very least, I'd be living even more self-centeredly than I am. If Jesus hadn't freely given His life, putting our needs ahead of His, we'd never experience God's grace.
Yet one could wonder: throughout the ages, people have rebelled against God. Why then did He allow His Son to suffer something so humiliating and so horrifying – for an undeserving people? He's God. He didn't have to do anything He didn't want to do.
Consider also how God the Father loves His Son. As a parent, I'd give my life for my children, but I wouldn't give a single one of my children's lives for someone else. Especially for someone who constantly rebelled against me. Certainly not for a world that continuously mocked me.
What kept God from reneging? Our heavenly Father received no personal benefit from allowing His Son to die for our sins – except to satisfy His love for you and me.
What an amazing demonstration of mercy.
If God's love for us had not exceeded the disrespectful way we treat Him, we'd be forever separated from Him (and His love for us), with no chance of seeing heaven. Jesus' death and resurrection did for us what we could never do on our own.
Our Savior's unswerving desire to set us (you!) free from Satan's control surpassed His feelings of terror that night. Our Savior chose to suffer untold degradation and unimaginable pain to take the punishment for our sins.
Quite simply (yet absolutely inconceivably), Jesus gave His life because He loves us – He loves you, your children and everyone you care about … this much.
Don't ever, ever, forget this.
What do you think?
You can use a pseudonym (fake name) when commenting if you want to.
How has Jesus' death and resurrection changed you?
If you're reading by email, CLICK HERE to visit Today Can Be Different online and leave a comment. If you would like to subscribe to this blog and receive the most recent post to your inbox, see sidebar! There's no charge for this service. AND, I'd be tickled if you would consider sharing this post 🙂