Praying for America to Become More Dependent on Independence Day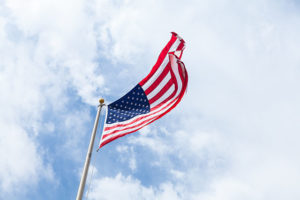 This week, as we celebrate our country's independence, I am asking you to consider praying for the United States to become more dependent.
Even though it was a great day when the thirteen colonies declared their independence from Britain, I wonder if we have inadvertently become too independent, especially in recent years.
In order for us to defend our freedoms, we must do whatever is necessary to protect our nation from any domestic or outside influences who want to oppress us. And the best way to make that happen is for Americans to regain our dependence on our country's true Founder.
I am confident that if we (both as individuals and as a nation) were to seek God with all of our heart – as if we knew we couldn't survive without Him – we could be a country whose values and priorities that God can bless:
"Look to the LORD  and his strength; seek his face always" (Psalm 105:4 NIV 1984).
Once we seek God – and recognize how desperately we need His presence – we will become better equipped as a nation to help our own people and other countries. The more America realizes her dependence upon God, the stronger she will be.
Father, we praise You for Your wisdom, power and for Your magnificent holiness. We are thankful that You are faithful, loving and extravagantly merciful. It is because of Your greatness and Your compassionate nature that we humbly come before You, praying for America.
Forgive us for our growing independence from You. Help us to see the catastrophic future for our country if we continue to choose to trust in our own way. Give us the wisdom to seek You and Your presence as our vital necessity so that the United States of America can – rather than destroying ourselves – be used for Your purposes and glory.
America needs You, Lord. We are totally dependent upon You.
What about you?
You can use a pseudonym (fake name) when commenting.
Will you join me in praying for our country – including our leaders and those running for office?
Considering a nation is made up of many individuals, what is one thing you could do personally to practice dependence upon God?