Do your procrastinating ways make you want to give up?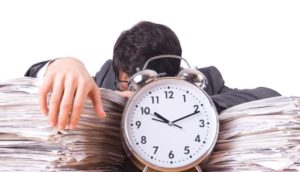 You're stressed because you have only three days before your assignment is due.
You know you'd get more done at work – if only you were more disciplined with your time.
You sigh deeply at the breakfast and lunch dishes, including the pot you now need to cook dinner, still stacked in the kitchen sink.
Your face flushes with embarrassment as you sign your kids in late at school (again), which means you'll also be late for work (again).
The knot in your stomach grows bigger as the list of family and friends you haven't kept in touch with grows longer and longer.
How does this kind of behavior affect you – and your day? Because I've struggled with procrastination, I know exactly how you feel. You're tired of ending every day more and more stressed out because of the time you've wasted. And most of all, you desire to feel God's pleasure instead of hoping deep down He's not going to give up on you – even though you've almost given up on yourself.
Clearly, beating ourselves up for our I'll-do-it-tomorrow ways only makes it worse. But how do we begin to conquer lifetime habits of putting things off and mismanaging our time? Even more, how do we acquire the will to do so and the commitment to stick with it?
Though I've improved this past year, I still have room to grow. One thing that's helped me is to learn to value each day and ask God to help me feel excited about what I can accomplish.
Perhaps this familiar verse could help us begin to develop a more positive and hopeful mindset:
This is the day that the Lord has made; let us rejoice and be glad in it. (Psalm 118:24 ESV)
In a couple of weeks, I'll begin discussing ways we can overcome the debilitating practice of procrastination. In the meantime, let's begin thanking God for each day.
Imagine how it will change us (including how we feel about ourselves) if we begin, today, to rejoice in the miracle and possibilities of each day – including this day – the day created by the very One Who will never ever give up on us.
What about you?
You can use a pseudonym (fake name) when commenting.
In what ways does procrastination affect how you feel about your day?

How does it affect your feelings about yourself?

How does it affect your relationship with others? With God?
See sidebar to subscribe to this blog and receive the most recent post to your inbox. There is no charge for this service.