The Number 1 Way to Scrub Toilets with a Thankful Attitude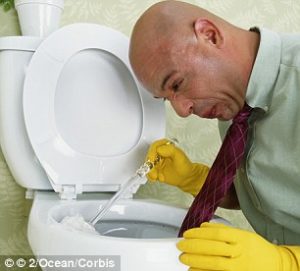 "Bert, I don't have time to clean the house. My column for the papers isn't finished yet."
Although Bert's response was sweet, I could tell he wasn't happy. But my line of reasoning made sense to me. The house didn't look that bad. And besides, what would people do without my insights? (Totally kidding with this last sentence 😉 )
A few days later, one of my blog visitors emailed me, saying she was setting a goal to "consistently respond in a cheerful voice to my husband, even when I feel very tired." Following suit, I decided to make it my goal to prioritize my husband above ministry. And to do it cheerfully.
Would you like to join me in resetting our priorities and our disposition?
If we use Colossians 3:17 (ESV) as our motivation, we could extend this concept to every relationship – even those at work, church and school.
And whatever you do, in word or deed, do everything in the name of the Lord Jesus, giving thanks to God the Father through him.
This verse depicts the attitude I want to emulate: to do everything, with a thankful heart and attitude – as if I represented God Himself.
What if we spoke every word and performed every task as if we were literally representing the ultimate Servant? I assure you, I'd really have to depend on God's presence within me to accomplish that – especially when you add the "giving thanks" part.
Can you imagine what this attitude could do for a marriage? For every relationship? Not to mention giving us a higher perspective about our tasks.
I truly believe we experience amazing joy and peace as we pursue a higher level of service. Do you crave this kind of joy and peace? I sure do.
Each time we're tempted to grumble when we have to clean the kitchen, redo a project for our boss, scrub the toilets at church, or head a committee at school, let's make it our goal to do it all with a grateful heart, in Jesus' name.
What about you?
You can use a pseudonym (fake name) when commenting.
How will practicing Colossians 3:17 affect the way you work?

How will it change you?
——-