When we have trouble trusting God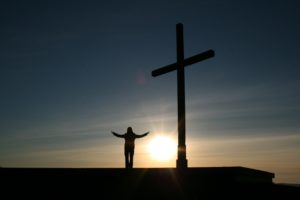 What character in the Bible do you relate to the most when your faith is tested for a long time?
Sometimes I'm a lot like the father in Mark 9 who begs the Lord for more faith, especially when it comes to trusting Him regarding my children.
In this chapter, a father tells Jesus about his son whom a demonic spirit has controlled since childhood. He then says, "'But if you can do anything, have compassion on us and help us.' And Jesus said to him, 'If you can! All things are possible for one who believes.' Immediately the father of the child cried out and said, 'I believe; help my unbelief!'" (Mark 9:22-24 ESV)
When our emotions and circumstances are screaming louder than our faith, when our fears become the ruling power in our trial, and when we're at the end of our rope, we find ourselves praying a similar prayer: "Father, help my unbelief! Give me the faith to know that You are all You say You are and that nothing is impossible for You. Help me to see You right here in my circumstance!"
And during the times when God's answer is no: "Father, help my unbelief in the times when You don't answer in the way I desperately wanted You to. In the way I desperately needed You to. Help me to trust You in the midst of this anguishing pain. To trust that You always know what's best."
What if we were to grow to love His Word to the point that we actually began believing God is all He says He is and can do all He says He can do? How would our relationship with God change if we were to spend so much time talking with our heavenly Father that He becomes even more real to us, especially when we need Him the most?
Ironically, the whole process of crying out to God in our unbelief is the very act that, over time, strengthens our faith. Simply choosing to turn to Him in our trials (large and small) draws us closer and helps us recognize His presence and power.
I wish I could say my faith never waivers. But, step by step, I'm still learning to trust God fully. Which is why I cry out, "Lord, help my unbelief!" as I continue my journey of faith.
What about you?
You can use a pseudonym (fake name) when commenting.
Can you relate to the father's cry, "I believe; help my unbelief!" mentioned above?

How can we pray for you?
See sidebar to subscribe to this blog and receive the most recent post to your inbox. There is no charge for this service.