When we'd rather not love our enemies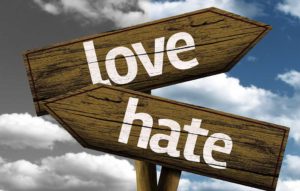 Are there some verses in the Bible you wish the Holy Spirit had never included?
Doesn't it seem like the verses dealing with loving our enemies sometimes feel impossible to obey – and are the most tempting verses to skip over? Here's one example:
"But I say to you who hear, Love your enemies, do good to those who hate you, bless those who curse you, pray for those who abuse you." (Luke 6:27-28 ESV)
Many of you have been hurt in ways most of us can only imagine. (And I'm truly sorry for what you've suffered.) Yet, as difficult as it is to read this, when Jesus said those words, He was speaking to you, too.
When your pain is still raw, when the person who has hurt you seems to be getting away scot free, when all you can see is red, it is so much easier to close your ears (and heart) to Jesus' words. But did you catch the first part of verse 27, "But I say to you who 'hear'?"
Are we listening? Or are we pretending we can't hear our Father's voice?
We need to listen to what God is saying to each of us who have been hated, cursed and abused in whatever way. Because when we hear (and obey) His Word, we are able to destroy that which the devil is using to break us.
Bitterness, resentment and rage have kept us imprisoned long enough; therefore, we need to change the way we process our pain. Rather than continuing to allow what has happened to us to cause further havoc, what if we, instead, asked God to help us do "the impossible": love those who have hurt us?
What if, today, we're able to finally pray, "God, if you will fill me with Your Spirit and enable me to obey Your Word, I am willing to begin."
Even if at first we do this reluctantly, only because God's Word tells us to, we will discover unexpected peace as we begin to break free from Satan's control. And hopefully, as we grow in our desire to obey God's Word more and more, we will skip over fewer verses.
What about you?
You can use a pseudonym (fake name) when commenting.
Are you ready to allow God to help you to apply Luke 6:27-28 to those people who have hurt you?

How can we pray for you?
See sidebar to subscribe to this blog and receive the most recent post to your inbox. There is no charge for this service.