When you're ready to take that step to know God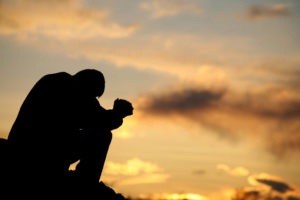 "Are you ready?" I called to my roommate from the second floor.
"Yeah … just give me another minute," Marlene answered.
I looked over the railing and saw her on the couch with her Bible open. She stood, then leaned over to read a little bit more. She just couldn't tear herself away, just yet.
What I saw that day was a beautiful picture of a child of God lingering in her Father's presence – a picture that continues to inspire me today.
What about you? Do you regularly enjoy talking with and listening to your heavenly Father? Of course, if we're honest, not every day is magical. There are times when we're not really "feeling it," and it seems as if we're talking to ourselves.
If we persevere in our quest to know God and "the wonders of His Person" (Philippians 3:10 AMPC), however, we'll experience days when it will be hard to tear ourselves away from His presence. We'll long for another look into His Word – just one more glimpse into His personality, His heart, His ways.
But perhaps you don't really care that much about God – and frankly, you're not so sure He cares about you, either. Or maybe, up until now, you've had an I-pray-when-I-need-something relationship with God. But now you want something different.
If you don't have a desire for God, but would like to, let this be your first (or next) prayer. You could simply pray, "God, help me to want to know You. Amen." Then, pray it again the next day. You may discover that each day you sincerely and thoughtfully pray this short prayer, you'll sense a growing desire to know God as your heavenly Father.
As you continue to do this, you may begin to sense God's nearness. And the more you feel His nearness (His presence), the more you'll experience a peace you've never experienced before.
Once this happens, allow yourself to get to know God a bit more. Try reading the Bible (the book of John is a good place to start) and linger in His presence a little more every day. As you do, you may also discover how much He really does care about you.
What about you?
You can use a pseudonym (fake name) when commenting.
Are you ready to take that step to get to know God as your heavenly Father?
If you're reading by email, CLICK HERE to visit Today Can Be Different online and leave a comment.
See sidebar to subscribe to this blog and receive the most recent post to your inbox. There is no charge for this service. And, if you like this post, please consider sharing it. Thank you.