Which is scarier: natural disasters or hell?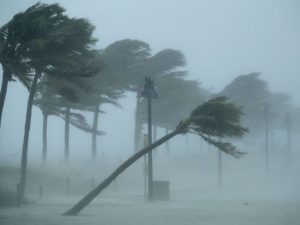 Which scares you more: a pending natural disaster or the thought of spending eternity in hell?
On the surface, this question can appear harsh and uncaring, especially when we consider the huge financial and emotional losses brought about by natural disasters. People lose their homes, businesses, and sometimes their lives.
So I'm asking you to believe that I'm not minimizing those true losses and to trust the sincere intent of my question. Which scares you more: a looming hurricane, fire, or earthquake, or the thought of spending eternity in hell? In other words, do you expend more thought and energy preparing for a natural disaster or for eternity?
Maybe you don't take either seriously I've heard about people having hurricane parties, mocking the imminent danger coming their way. Much like people who mock the imminent horror of hell by bragging about the huge party they'll have there. While it's possible to survive a hurricane, there's no second chance once you've entered perpetuity (time without end).
With this in mind, why do people treat hell so casually, even after considering Jesus' description of hell in Matthew 13:42 (KJV)? He described it as "a furnace of fire" where "there shall be wailing and gnashing of teeth."
In hell, you'll wish you could pray to the very God you rejected – the God Who gave His Son to die for you (John 3:16). You'll long to ask him to rescue you from "the party" you've chosen to attend. As bad as the worst hurricane is, it can't compare to the desolation of spending the rest of your existence without joy, without love or without the hope of things ever getting better.
In plain English, once you're in hell, you're there forever. Permanently.
But the good news is, you don't have to go there. Going to hell is a choice – your choice. God finds no pleasure when someone ends up in a place of torment and isolation. Jesus loves you so much that He died for you – so you could spend "time without end" with Him and experience unbelievable joy. The kind of joy you don't want to miss out on. 
The kind of joy that beats anything a hurricane party could offer.
What about you?
You can use a pseudonym (fake name) when commenting.
Do you fear eternity?

Do you want to talk about it?
If you're reading by email, CLICK HERE to visit Today Can Be Different online and leave a comment.
See sidebar to subscribe to this blog and receive the most recent post to your inbox. There is no charge for this service. And, if you like this post, please consider sharing it. Thank you.