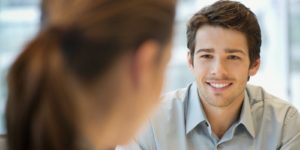 When your husband looks at you, do his eyes say he knows, without a doubt, that you believe in him?
Take a moment to recall the last time you saw that twinkle in his eye as you expressed your admiration for him. Recall the deep satisfaction you felt watching his eyes light up with soaring confidence because he knew he had your support.
How long has it been since you experienced moments like this with your husband? Too long?
Would you like to return to that good place in your marriage? Or are you afraid too many years have passed, too many hurtful words have been said, too many "too-manys" have taken place?
It takes two to destroy a marriage, but it only takes one to begin to put it back together. God can use you to restore your relationship with your husband when you choose to apply 1 Corinthians 13:7b (AMPC) in your marriage:
Love … is ever ready to believe the best of every person.
You have a choice. You can continue to experience that sinking feeling each time you see hurt and discouragement in your husband's eyes because you berated him, yet another time, for not doing something "right." (Just writing this makes me never want to see that look in my husband, Bert's, eyes again.) Or you can have deeply satisfying moments every time you stand with your husband, believing in him and choosing to focus on what's good about him.
What would happen if you began right now to believe in your husband? To begin trusting that he really wants to be the man God created him to be?
Even if your marriage is a good one, it can be better. Imagine what it will do for your husband if he knows – absolutely knows – you believe in him.
Wives, I want to assure you that God cares about your needs, too. He knows how deeply you want to be treated in loving and respectful ways. So I'm challenging you to trust Him and His Word. Faithfully practice 1 Corinthians 13:7 for one month.
After thirty days, what do you think your husband's eyes will be saying when he looks at you?
What will yours be saying to him?
What about you?
You can use a pseudonym (fake name) when commenting.
Will you take the "30-Day 1 Corinthians 13:7 Challenge?"

Are you excited to see what your husband's eyes will be saying to you at the end of the challenge? And yours to him?
If you're reading by email, CLICK HERE to visit Today Can Be Different online and leave a comment.
See sidebar to subscribe to this blog and receive the most recent post to your inbox. There is no charge for this service. And, if you like this post, please consider sharing it. Thank you.