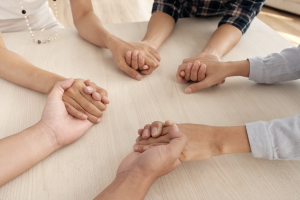 You're either thrilled or devastated that Joe Biden has been declared the winner of the 2020 Presidential race.
If you're thrilled, I understand your joy. I experienced the same excitement four years ago. Although my guy didn't win re-election this year, I'm not devastated. At least not anymore.
When Mr. Biden was first declared the winner, I cried. Then I prayed.
Then I went on Facebook and reposted my call to pray for our country. This time I added, "by praying for President-Elect Joe Biden." I received mixed reactions to my post. But after spending years writing about praying for our country and our leaders, I wanted to encourage people (including myself) to begin praying for Joe Biden and Kamala Harris now.
Truth be told, I'm praying with conflicting emotions. I'm holding out hope, as I write this, that Trump's legal battles might change the result of the election. But when I genuinely pray for God to guide Biden and Harris, I gain a sense of peace. Praying focuses me and directs my heart, thoughts and emotions. It calms my days and my nights.
How else could I continue if I didn't talk to God about all that concerns me – and this concerns me. I'm asking God to give us all grace and the desire to pray.
First Timothy 2:1-2 (ESV) reminds us to pray for our leaders.
First of all, then, I urge that supplications, prayers, intercessions, and thanksgivings be made for all people, for kings and all who are in high positions, that we may lead a peaceful and quiet life, godly and dignified in every way.
The Bible doesn't say pray only for the leaders you like, but to pray for "all in high positions." If you don't know what to pray, ask God to show you how to pray for Mr. Biden and Ms. Harris. If we love our country, we must pray for those who lead it. Whether or not they're sworn in, God will use our prayers in their lives.
Rather than succumbing to despair and resentment, I choose to pray. I hope you will, too. When we pray, we honor God. We grow in our faith. We may even grow in our love for those with whom we disagree. God loves to see us pray for those we consider our "enemies." This is what it means to trust God in all circumstances.
Praying for our leaders will unite us as believers.
And the more we pray as a unified nation, the better we'll be able to face whatever the future holds.
What do you think?
I'd love to hear your thoughts about this post. (Others might also benefit from your comment.)
If you're reading by email, CLICK HERE to visit Today Can Be Different online and leave a comment. If you would like to subscribe to this blog and receive the most recent post to your inbox, see sidebar! There's no charge for this service. AND, I'd be tickled if you would consider sharing this post 🙂