God Can Save Your Marriage, More Than You Can Imagine, part 3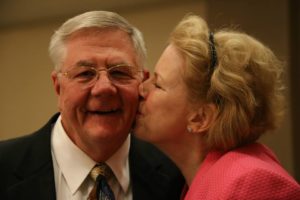 This week, I conclude Bert's and my story:
[In case you missed it, you can read part 1 of God Can Save Your Marriage, More Than You Can Imagine here; and part 2 here.]
For the next several weeks, I continued to pray constantly and I kept my Scripture memory cards near so I could meditate on them throughout the day.
God's presence continued to penetrate my sadness, even at night – especially as I cried alone in our bed. (Bert had moved into the guest bedroom weeks before.) My hope was growing. And thankfully, I also grew in my understanding of my significance in Jesus, rather than in Bert's opinion of me. That understanding enabled me to resist temptation more often and behave like the wife I prayed to be.
Then one incredible evening, I saw tears in Bert's eyes. "Sheryl, I never had anyone love me like you do. I never had someone who was willing to stay with me, in spite of my selfish, self-centered behavior." He reached for my hand and pulled me closer to him. "Will you forgive me?"
I couldn't believe what I was hearing. I covered my mouth with my hands and laughed – and cried! Was this really happening?
Bert stood up, walked to the guest room, and came back with his wedding ring, which he had removed weeks before. He slid it back on his finger and said, "I'll never take it off again." More tears filled his eyes. "I've been a fool, Sheryl."
He asked me to forgive him for the years of rejection, and I asked Bert to forgive me for my years of disrespectful behavior. My husband pulled me toward him again, and we held each other for a long, long while. What an incredible turnaround – due to an incredible God!
Now, whether cleaning the kitchen, making sales calls for Wave 94, preparing supper or lying in bed (next to Bert!), I continuously thank God for doing superabundantly more than I ever imagined possible in me, in Bert – in us.
"Now to him who is able to do far more abundantly than all that we ask or think, according to the power at work within us …" (Ephesians 3:20 ESV).
What about you?
You can use a pseudonym (fake name) when commenting.
Have you been meditating on Ephesians 3:16-21 with us? Would you like to share how those verses have changed you and/or your circumstances – or at least, your perspective?
Have you experienced answers to your prayers? We would love to hear about it!
How can we pray for you?