If You're Depressed or Suicidal …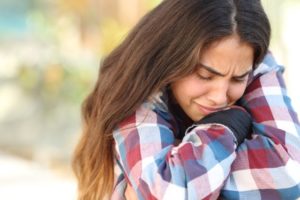 After many suicidal attempts due to chronic depression, I'm thankful to be alive. Indeed, without God's constant intervention, I wouldn't be writing to you today.
Yet as an adult, even though I knew Jesus as my Savior and spent lots of time reading my Bible and in prayer, I couldn't break free of the constant opposing and destructive emotional darkness. It would be years (with lots of counseling, the right kind of medication for a while – and tons of prayer) before I would experience freedom.
It was a long, hard-fought battle. But, praise God, I finally broke free.
However, before I go any further, if you're plagued with suicidal thoughts, please get professional help right away. I've found Christian counseling to be the most helpful. Unfortunately, the shame that depression brings can keep us from seeking help. And that's not good. (You can also call the National Suicide Prevention Lifeline, 1-800-273-8255.)
Also, if you're able (and wouldn't mind), if you struggle with depression or anxiety, or if you're experiencing regret and guilt from the choices you've made, would you consider leaving a comment or send me an email to let me know how we, the body of Christ, have been helpful to you – or ways we can be more supportive of you? (Click on "Contact" on the top of the page to email me.)
I know you've heard enough pat answers when you've sought advice regarding your heart-wrenching distress (even from those of us who've been there). Although we have good intentions, those kinds of responses no doubt drive you up the wall and deeper into despair. (With your permission, I will share helpful insight to interested church leaders. Your names and personal information will be kept confidential.)
Meanwhile (at the risk of sounding trite), please take another look at 1 Peter 5:7 (ESV): "Casting all your anxieties on him, because he cares for you." Cast all of your anxiety, depression, regret and shame onto Jesus. Don't hold back – tell God all about your struggle, especially the worst of it.
And while you're doing this, picture Jesus' face of love and compassion for you. Then, allow Him to give you strength for one more day.
Please don't give up. I'll be praying for you – and looking for your comment or email.
What about you?
You can use a pseudonym (fake name) when commenting.
If you (or someone you know) is struggling with depression or anxiety, in what ways have the Body of Christ been helpful?
In what ways have we, the Church, failed you?
See sidebar to subscribe to this blog (via email) and receive the most recent post to your inbox. There is no charge for this service.
Photo © Antonio Guillem  | dreamstime.com