Are you weary with regret?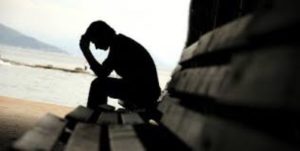 I'll never be able to forgive myself.
Just typing those words brought so many emotions. The years of regret were so strong, I wore them like chains. I feared I'd never break free of them. Sexual immorality and destructive choices confirmed my already low self-esteem.
In time, I was able to accept God's forgiveness. But even then, it took a while before I could see myself in a positive light. What recurring memory still makes you cringe in embarrassment and shame, even though you genuinely repented of those choices?
When the prophet Nathan confronted King David about his adulterous affair with Bathsheba, David sought and received God's forgiveness. But if he hadn't accepted God's mercy, that sinful period would have defined the rest of his life.
Although David still experienced severe consequences for his actions, holding onto guilt after receiving God's forgiveness would have made it much more difficult for him to ask God for help and direction during the tumultuous years that followed.
How different would David's story have been if he had chosen to live in self-condemnation? Would we know him as a man after God's heart? Probably not. When we choose to hang on to our shame, how do people view our relationship with God?
If we want others to see us as people after God's heart – to see the personal and intimate relationship we have with God – rather than dwelling on our failures, we should pray the words King David prayed after Nathan confronted him with his sin: 
O Lord, open my lips, and my mouth will declare your praise. (Psalm 51:15 ESV).
How would our witness (and our own faith) change if we stopped living as if Jesus' death and resurrection weren't enough to pay for our sin? What if, instead, we began praising Him for the extraordinary love He displayed at Calvary?
Maybe, as we continue to declare His praises, our confidence in His love and faithfulness will grow. Our witness will become stronger as we no longer believe the lie that we're not worthy of God's care and direction.
Which would be a stronger, more dynamic testimony? Allowing our hearts to grow weary with regret and sorrow because of our sins? Or opening our mouths to declare God's praises and mercy? You decide.
What about you?
You can use a pseudonym (fake name) when commenting.
Do you struggle with shame, self-hate or guilt for sins you've already confessed to God?

Would spending time praising God for all He has done for you, including dying for you, help change your perspective?
See sidebar to subscribe to this blog and receive the most recent post to your inbox. There is no charge for this service.