I tried to lose 10 pounds but gained 5 instead!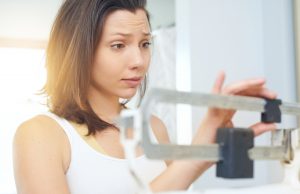 I read a study that says if you're in a good marriage, you usually gain weight. If you're in a bad one, you typically lose weight.
I have good news:
According to my bathroom scales, my marriage is thriving!
More good news:
After a long history of anorexia nervosa (years ago), I rejoice that my present weight doesn't devastate me. Even as I see the scales creeping back up to my highest weight ever, I'm overjoyed that I'm not tempted to starve myself or purge.
Don't get me wrong. I want to lose weight. In fact, I recently tried to lose weight for an upcoming writer's conference, but I gained weight instead. I hate the way my clothes fit (even at a larger size), and it's not as easy to bend over to tie my shoes. Sometimes I even avoid meeting old friends due to this "extra" evidence of my thriving marriage.
I want to reach a healthier weight, but I want to do it the right way. Slowly. Wisely.
Meditating on this week's Bible verse helps me make God-honoring choices regarding my health.
1 Corinthians 10:31 (ESV) gives us the correct perspective about everything we do, including eating:
So, whether you eat or drink, or whatever you do, do all to the glory of God.
If you are in the same place I am, in need of better eating habits and a more consistent exercise routine (especially now when it's even more important to keep our immune system healthy during this pandemic), let's ask God to help us pursue healthier habits, one small choice at a time.
For example, this week we could set goals to eat a large green salad before every lunch and dinner with an apple for dessert and to walk twenty minutes three times per week. Next week, we can increase our walking time and begin working on portion control regarding starches – one meal and one day at a time, with God's help.
Finding accountability partners is another great way to succeed. Share your goals with your friends (even on social media) and invite them to share theirs.
Today, decide what steps you'll take to become a healthier person. Wouldn't it be nice to not have to depend on your bathroom scales to prove your marriage is thriving? Or to not gain weight when your goal is to lose it?
What do you think?
You can use a pseudonym (fake name) when commenting if you want to.
What steps will you take to become a healthier person regarding your weight and your immune system?
Please take the necessary steps to stay healthy and to keep the coronavirus from spreading.
If you're reading by email, CLICK HERE to visit Today Can Be Different online and leave a comment. If you would like to subscribe to this blog and receive the most recent post to your inbox, see sidebar! There's no charge for this service. AND, I'd be tickled if you would consider sharing this post 🙂