You are God's beloved child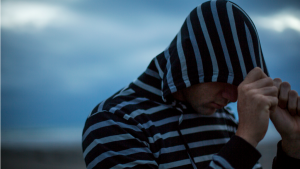 When you blow it – I mean, when you really mess up big time – do you hide from God? Sometimes I do, too.
What if, instead of feeling like a failure and slinking away in shame, we looked at ourselves the way God looks at us: as His much-loved child – even when we fall into sin?
Whenever I read Romans 8, I see more clearly the type of relationship God wants to have with us. And the reason He paid such a high price to get it.
I always smile at verse 15:
For you did not receive the spirit of slavery to fall back into fear, but you have received the Spirit of adoption as sons, by whom we cry, 'Abba! Father!'" (Romans 8:15 ESV).
If we've recognized Jesus' death on the cross as payment for our sins, we can call God (with all the excitement the exclamation points imply), "Abba! Father!"
For the rest of June, the month in which we celebrate fathers, let's pursue such a close relationship with our heavenly Father that we cry (whether in a loud exclamation or quiet whispers), "Abba, Father," in the same manner we would say "Daddy!"
As a dad, you love your children no matter what they do or don't do. How much more does this apply to our relationship with our heavenly Father? Nothing can – or ever will – prevent us from drawing near to our merciful Father. His love for us doesn't waver, regardless of our behavior. Isn't this amazing? Isn't this exactly what we need?
Let's not minimize God's love and grace. Rather, let's honor our relationship with Him by allowing our Redeemer to conform us to His image so we don't fall as easily into sin.
What about you?
Are you able to go to God when you need Him most (when you've fallen into sin or made (another!) bad choice? If not, for the next few weeks, get to know God as your compassionate Father. As your loving Daddy. Perhaps you can plan to spend extra time reading His Word and talking to Him.
What do you think?
You can use a pseudonym (fake name) when commenting.
How would your opinion of yourself change if you accepted, as fact that you are, unreservedly, God's beloved child? 
How would it change your life if you lived as if you knew Who your Father was? 
If you're reading by email, CLICK HERE to visit Today Can Be Different online and leave a comment. If you would like to subscribe to this blog and receive the most recent post to your inbox, see sidebar! There's no charge for this service. AND, I'd be tickled if you would consider sharing this post 🙂